Aaron Rodgers Takes Advantage of Free Plays Better Than Anyone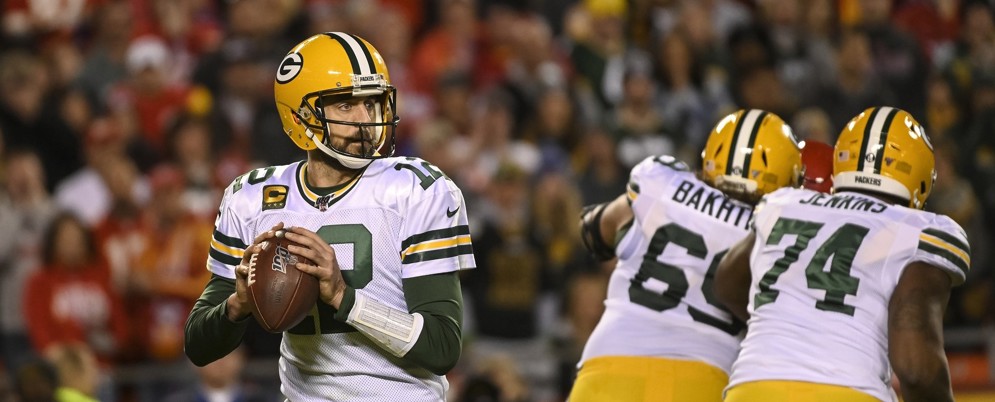 Aaron Rodgers is the NFL's career leader in passer rating, a two-time MVP and seven-time Pro Bowler. But there's one thing he's even better at than passing the ball — taking advantage of the "free play."
As the quarterback is calling signals, an early jump by a defensive player is a five-yard defensive offside penalty. If the center snaps the ball before that defensive player is a threat, the offense can still run a play. This instance is called a "free play" because even under the worst-case scenario — say, an interception — an offense can still go back and take the initial five-yard penalty.
Since 2006, Rodgers leads all quarterbacks with 84 passes thrown on free plays. And no one has attempted more deep free shots than Rodgers, either. Check out the plot below, which highlights the air yards each quarterback has thrown for after drawing an offside penalty from the defense.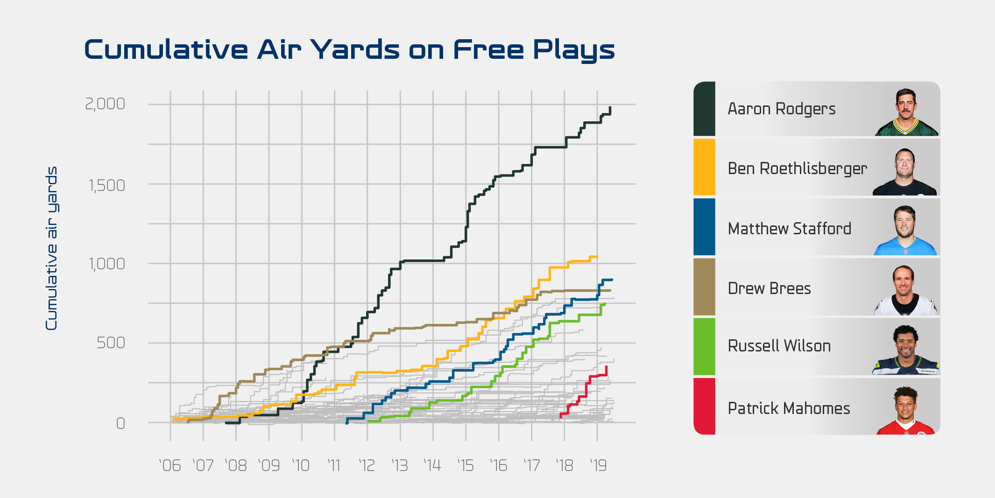 Each of the 170 quarterbacks with at least one free play in his career is shown in the plot with the grey lines, with six standout quarterbacks highlighted. 
Rodgers stands alone. Beginning in 2010, he has thrown for approximately 225 air yards a season on offside calls alone. More precisely, roughly once every other game Rodgers earned a free shot downfield, averaging 25 air yards on these throws. No quarterback is within 900 yards of Rodgers in total on this stat since 2006.
Rodgers owns the top three individual seasons in air yards on free plays, peaking in 2015, when he attempted 16 passes for a total of 407 yards downfield (25.4 air yards per free play). Of those 16, seven were complete, including two touchdown passes to James Jones.
"Free play — Rodgers has made a living on this," said ESPN's then-Monday Night Football announcer Mike Tirico when calling one of Jones' touchdown grabs in 2015 (video below). "Draw the offside, know it's a free play, take the shot downfield."
While Rodgers has owned air yards on free plays over the last decade, one young quarterback has started on a blazing path — Kansas City Chiefs signal caller Patrick Mahomes. In 2018, Mahomes tossed 15 passes after getting a free play, completing nine, and throwing the ball a total of 234 yards downfield. 
Which quarterbacks have been the least aggressive off of an offside call? 
Current Minnesota Vikings quarterback Kirk Cousins has thrown just 13 career passes off a free play, which traveled a total distance of 87 yards downfield (6.7 air yards per free play). Deshaun Watson (six passes, 56 air yards, or 9.3 air yards per free play), Kurt Warner (12 passes, 48 air yards, 4.0 air yards per free play) and even Peyton Manning (17 passes, 121 air yards, 7.1 air yards per free play) stand out as the opposites of Rodgers.