Comparing Kickers Across the League on Accuracy Between the Uprights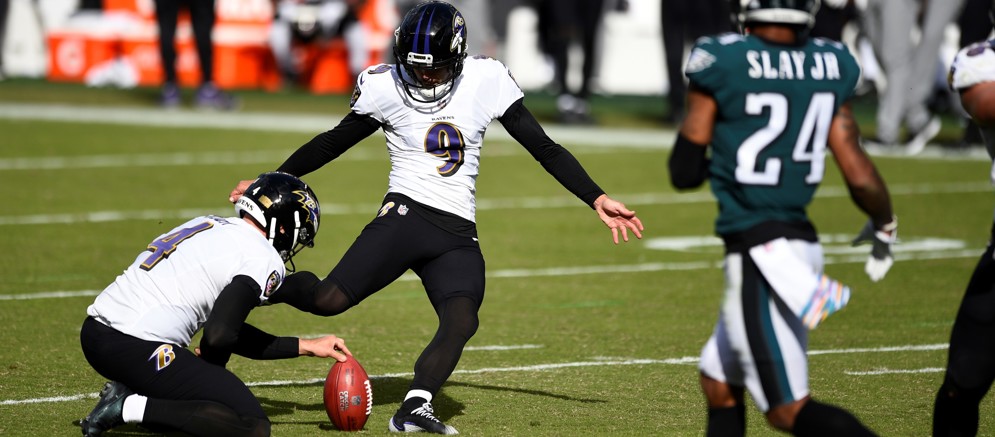 Due to Justin Tucker having one of the strongest and most accurate legs in the NFL, some experts suggest that he may be the best kicker in league history.
Tucker's kicks are so accurate that they sail directly through the uprights more often than any other NFL kicker, flying directly through over the center of the crossbar. 
The chart below has kickers who led each NFL team in kick attempts since the start of the 2018 regular season and uses Next Gen Stats football tracking data to show each kicker's makes or misses on field goals and extra points. The data identifies where, relative to the uprights, each kick crossed the end line.
In the chart, kickers are sorted from most to least accurate (top left to bottom right), using data of each kicker's average distance from the center of the upright. Tucker leads the way with kicks crossing an average of 1.10 yards from the center of the uprights, with Josh Lambo (1.11 yards away) a close second. On the other hand, Nick Folk (1.75 yards) posts the highest average error.
Alternatively, if the width of the uprights were to be cut in half (the crossbar is 18 feet, 6 inches in length and the top face is 10 feet above the ground), 73.8% of Tucker's kicks would still be successful, compared to 58.5% for Folk's attempts.
The chart also identifies where kickers tend to miss. Brandon McManus has missed 10 kicks to the right of the uprights (5.6%), versus 4 kicks to the left of the uprights (2.2%). Of Stephen Hauschka's attempts, 62% have sailed left of center, while Joey Slye kicks it right of center 68% of the time. (Note: our chart includes kickers who are not currently on NFL rosters)
Shorter kicks also play a major role in kickers' accuracy compared to long distance ones. On field goals longer than 50 yards, the average distance from the center of the upright is 2.65 yards compared to 1.02 yards on field goals of 30 yards or less. Tucker is particularly accurate on kicks between 40 and 49 yards, where his average distance from the center of the upright is 1.15 yards, at least a half-yard more accurate than each of the kickers shown above.
No kicker in the league is more accurate from long distance than the New Orleans Saints' Wil Lutz. Among kickers with at least 10 attempts of 50 yards or more, Lutz missed the center by an average of 1.97 yards.