How Do NFL Coaches Use Their Challenges?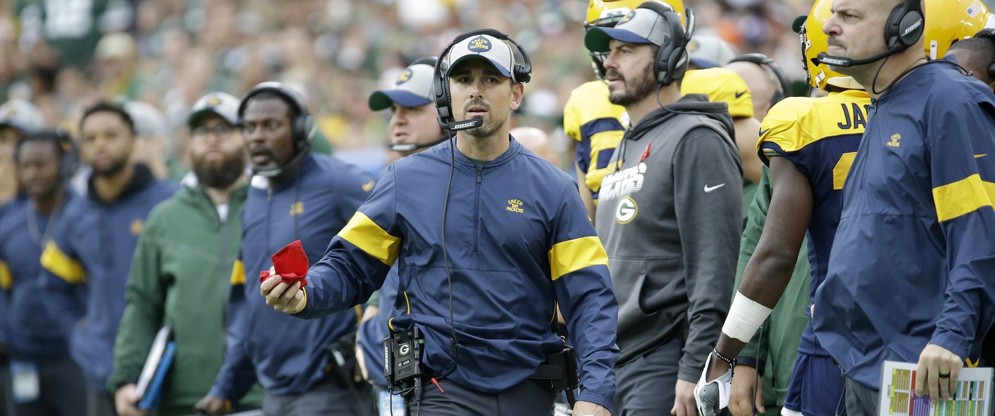 After an unsuccessful challenge of an incomplete pass on Thursday Night Football against the Los Angeles Chargers, Oakland Raiders head coach Jon Gruden fell to 0-for-7 on challenges in the 2019 regular season. But Gruden is not the only one with limited success — through Week 10, 13 of the league's 32 head coaches have yet to win a coaches' challenge this season.
With that in mind, here's a chart showing how frequently coaches throw a challenge flag (x-axis) versus how successful they are on those challenges (y-axis). The data shows all games for each coach dating to 2004, the first year in which the league allowed up to three successful challenges per team.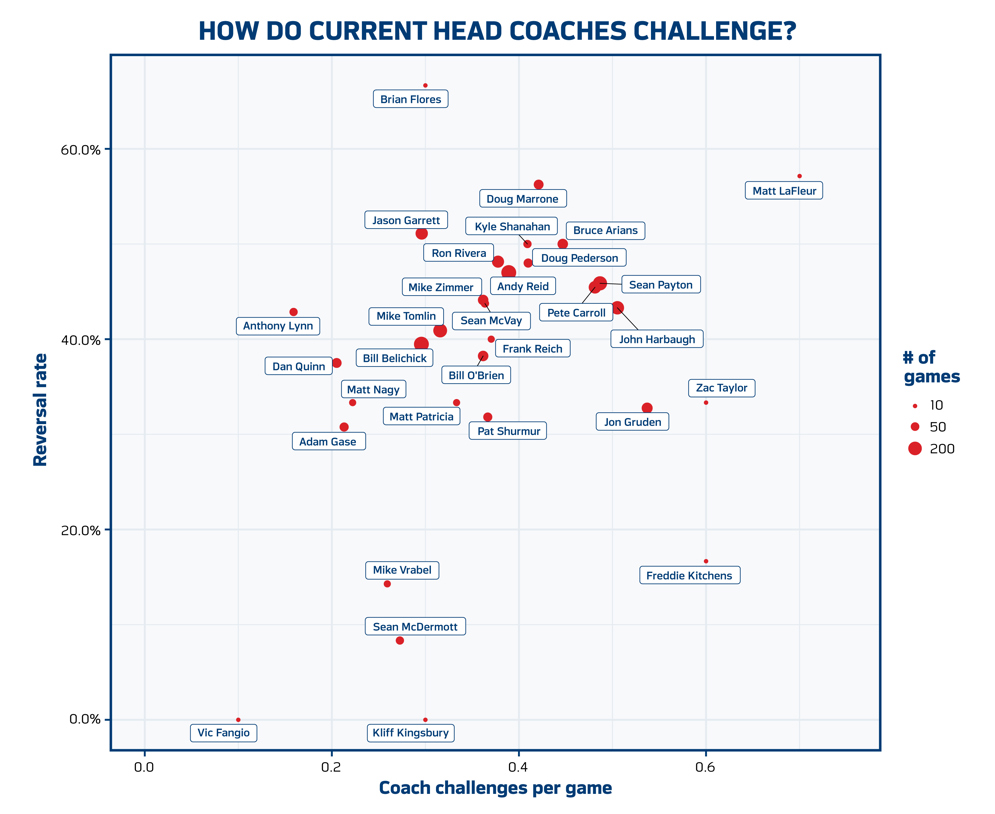 In the top right of the graph, Green Bay Packers head coach Matt LaFleur has been the most frequent/successful challenger (winning four of seven challenges), though that has come with only ten games worth of data. More robustly, John Harbaugh, Sean Payton, Bruce Arians, Pete Carroll and Doug Marrone stand out as coaches with multiple seasons under their belts who frequently, but relatively accurately, use coaches' challenges.
Alternatively, among coaches with at least half a challenge per game, only Freddie Kitchens of the Cleveland Browns has yielded a lower success rate than Gruden. And in the top left, Jason Garrett of the Dallas Cowboys boasts a low challenge frequency (0.29 per game), but when he has challenged, he has successfully overturned the decision on the field more than 50 percent of the time (23-for-45).
Among non-active coaches, and using games after 2004, count former Seattle coach Mike Holmgren as one of the most passive challengers (0.28 per game), with Mike Shanahan of the Denver Broncos (0.52 per game) on the more aggressive side. Meanwhile, Jim Caldwell (Indianapolis Colts) won 63 percent of his challenges, compared to 27 percent for Norv Turner.